Description of the cruise
The literary strolls along the water will give Paris a new colour, we will wander and escape from our original environments! Let's leave the land, towards a total freedom without prejudice, guided by researchers specialised in publishing, historians, writers, editors, journalists, interpreters, actors, various personalities of the human and social sciences.
We will give everyone an appointment with these personalities whom we have chosen with passion: we admire them for the works they have created, for their erudition, for their talent and for their original paths... In their company, out of time, we will embark and follow their inspired voices that will carry us to the invisible circles of our literary history. All of them will bring to light the great founding ghosts of the past and of today. This cultural capital, which we are so rich in, and which we have conquered so hard, the time has come to spend it without counting the cost in order to transmit it.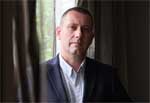 Vincent Ejarque,
"Les Spectres d'Alger", published by Ramsay
Head of publishing and deputy editor-in-chief at Les Echos newspaper
After studying history and journalism, Vincent Ejarque joined the daily newspaper L'Équipe before working in most Parisian editorial offices for the past twenty-five years (Le Parisien, Le Journal du dimanche, Le Figaro, L'Opinion, Les Échos, among others). Cinema, comics and photography play an important role in his life and permeate his writing. The Arab world, a distant memory of his childhood spent in Yemen, also plays a part. Les Spectres d'Alger is his first novel.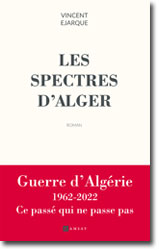 Spring 1962. One hundred and thirty years of French presence in Algeria collapsed in a few weeks, once the Evian agreements had been concluded between the French government and the nationalist representatives. Hundreds of thousands of people went into exile and thousands more died. In the middle of the urban inferno that Algiers had become, we find Lieutenant Térien, a young parachutist officer briefly seduced by the April 1961 putsch, taken over by the secret services and infiltrated into the OAS in order to pass on information to Paris. Within the clandestine organisation, Térien witnesses, from the front row, the decomposition of a world. He follows like a shadow the former Legion officer Roger Degueldre, the head of the Delta commandos, who tracks down the Gaullist barbouzes and eliminates them one by one. Térien also keeps an eye on General Salan, Jean-Jacques Susini, Dr. Pérez, all these OAS leaders who will have to be brought down, but at the right time. So as not to let an organization that dreams of overthrowing the Republic be reconstituted elsewhere. Unless he decides to go into business for himself, so as not to betray either his initial promises or his deepest feelings.
Free for children under 4 years old (please inform us of the exact number in the remarks field of the booking)